About Us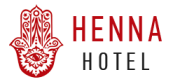 Henna Hotel - Your Cappadocia living experience in modern-day luxury! Terraced above the village of Goreme, our beautiful hotel offers the modern traveler a unique stone live experience.In the early morning at sunrise, marvel at the sight of hot air balloons filling the sky or enjoy the panoramic view overlooking the village and surrounding valleys, mountains and the Erciyes volcano in the background.

The Hotel had been used as mansion till 2014. The rooms whose ages are nearly 400 years old are decorated according to the historical sutructure of the region. After 3 years renovatin, the mansion has began to serve as a boutique hotel.
Satisfaction of our guests is our first goal with reflecting the historical and cultural values of the region

A breakfast which contains local foods with freshness and diversity is served on your table

And again, we supply free parking area around the hotel

Our hotel is located in the town centre, which is heart of cappadocia. The distance between hotel and otogar is 2 mnts, goreme open air museum is 15 mnts away walking distance. Also it takes around 45 mnts to get airports.

To make our guests' vacation more comfortable and easier, booking day tours, airport transfers, balloon flights can easily be found and organised through the hotel.