Location
The Henna Hotel are located in the old part of Goreme, less than a five minute walk from the town center.

Our address is:
Konak Sk. No : 2 Göreme/Nevşehir / TURKEY

If you have a GPS, our coordinates are:
38.642148N, 34.828284E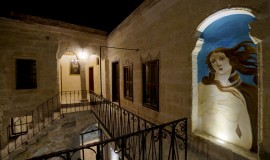 Are there flights to Cappadocia?
Yes. You can either fly to Kayseri (75km to Goreme) or Nevsehir (45km to Goreme). There are eight direct flights to Kayseri and three flights to Nevsehir every day, operated by Turkish Airlines. Pegasus Airlines also flies everyday to Kayseri, but their flights come from Sabiha Gokcen airport which is located on the Asian side of Istanbul (about 1 hour and 30 mins drive from Sultanahmet). There are also 3 direct flights a week (on Mondays, Wednesdays and Saturdays) between Cappadocia and Izmir. Sun Express and Pegasus Airlinesoperate Izmir-Kayseri flights.
We can arrange your airport transfer. Please visit our Airport Transfers page for further details. If you haven't purchased your tickets yet, our sister company, Turkish Heritage Travel, can book both domestic and international flight tickets.

How to come to Cappadocia by bus:
There are buses from all the major cities of Turkey to Goreme or Nevsehir. Be sure to buy your ticket to Goreme, not Nevsehir. Some travel agencies in Nevsehir bus station will claim that they will transfer you to Goreme free, but they will hassle you to purchase tours and leave you there if you don't buy one. Major companies like Metro and Nevsehirliler will have service buses from Nevsehir to the Goreme bus station. Just as with flight tickets, Turkish Heritage Travel can also book bus tickets to Cappadocia. We pick our guests up from the bus station in Goreme for free of charge. Please give us a call from the information office in the Goreme bus station. Even though the officers know our number, for your records, our phone in international format is +90 384 271 3125. We will come and pick you up in less than 10 minutes and drive to hotel. If you would like to walk, we have placed many signs from bus station to the hotel. Our hotel is less than 500 meters from the bus station.
How to drive to Cappadocia:
If you have a car or rented one, you can enjoy the scenery of Turkey while driving to Goreme. Drive via following cities:
​Istanbul to Goreme: Istanbul, Bolu, Eskisehir, Ankara, Aksaray, Nevsehir, Uchisar, Goreme
Ankara to Goreme: Ankara, Aksaray, Nevsehir, Uchisar, Goreme
Izmir to Goreme: Izmir, Usak, Afyon, Konya, Aksaray, Nevsehir, Uchisar, Goreme
Antalya to Goreme: Antalya, Akseki, Konya, Aksaray, Nevsehir, Uchisar, Goreme

The chart on the right will give you an idea about the distances to Goreme.
No matter what your interests, you are bound to love Cappadocia, one of the most beautiful and historically fascinating parts of Turkey. This region has been hosting visitors for more than 30 years which, means that you can be sure not just of a warm welcome but also of accommodation and places to eat to suit your every need.
Visit our Cappadocia page for further information.
​Distances of some cities and towns to Goreme
Goreme - Istanbul : 740 km
Goreme - Ankara : 290 km
Goreme - Izmir : 780 km
Goreme - Antalya : 550 km
Goreme - Konya : 240 km
Goreme - Pamukkale : 540 km
Distances in Cappadocia
Goreme - Kayseri : 70 km
Goreme - Nevsehir : 12 km
Goreme - Urgup : 10 km
Goreme - Avanos : 10 km
Goreme - Uchisar : 4 km
Goreme - Cavusin : 4 km