Services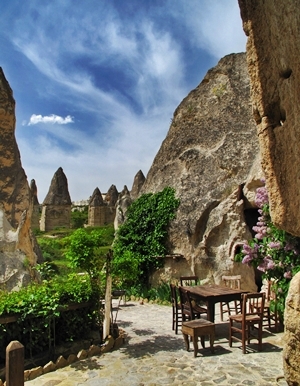 Shuttle bus service
There are two airports in Cappadocia; the Kayseri Airport (ASR) and the Nevsehir Airport (NAV). Kayseri is about 1 hour and Nevsehir about 40 minutes from the Henna Hotel. Nevsehir Airport is the newer and better organized airport of the two; hence we recommend flying into this airport if it fits your schedule. We operate airport transfers for both Kayseri and Nevsehir airports and for all incoming and outgoing domestic flights.
Shuttle Service for both the Kayseri and Nevsehir Airports (10€ per person)
We can arrange shuttle bus transfers for all domestic flights arriving / departing Cappadocia (both Kayseri and Nevsehir airports), however, advance booking is required, and the drivers cannot accept passengers not on their list.

Fortunately, booking your transfer is easy! Email us at info@hennahotel.com with your transfer request, , and coming. We will book your transfer and inform you by email.
Our driver will be waiting for you at the exit gate of the airport, holding a sign bearing your name. If your flight is delayed, he will wait for you. We can book your transfers to and from the Cappadocia area.
The shuttle bus service costs 10€ per person for both Nevsehir and Kayseri airports.

Private Transfers
We can also book a private transfer direct from the airport to our hotel. As the shuttle bus stops at different hotels en-route, the private one will be faster. The private transfer costs 80 Euro for the Nevsehir Airport and 100 Euros for the Kayseri airport. These are the prices for 1 to 10 people. Please send us an email (toinfo@hennahotel.com) with your transfer request ( or ), and coming. We will book your transfer and inform you by email.
Our driver will be waiting you at the exit gate of the airport, holding a sign bearing your name. If your flight is delayed, he will wait for you.

Free Internet Access
We have one computer in our reception area for complimentary use by our guests. There is also a broad-band wireless internet connection on the terrace, restaurant, and in most of our rooms (except in some of the cave rooms).
Free Parking Lot
All our guests can park their cars in our parking lots free of charge.
Terraces
Our terraces will be your favorite places for resting, reading or chatting with your friends.
TOURS
Daily Cappadocia Tours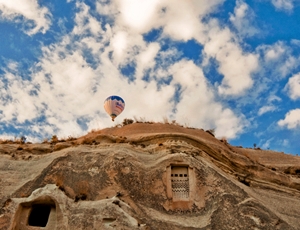 We offer three different daily tours at the Henna Hotel. The number of people on these tours is limited to 15. We don't spend time on obligatory shopping stops. Tours start between 09:30 and 10:00 depending on your tour choice from the Henna Hotel. Tours finish around 16:00 - 17:00 at the Henna Hotel. Including a licensed English speaking guide, entrance fees, lunch and transportation. Except in winter, we have at least one tour almost every day. However, we need a minimum of four people to arrange a tour. Itineraries for the tours are:

History and Adventure Tour:
Depart from the hotel at 10:00
Hike the Rose Valley (4 km hike in Rose and Meskendir Valleys)
Pasabag (Mushroom-shaped fairy chimneys and St. Simeon's monk cell)
Lunch (Traditional Cappadocia cuisine in Goreme)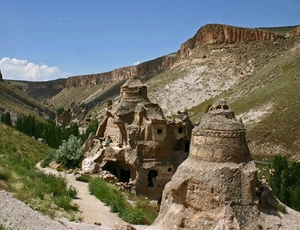 Kaymakli Underground City (The most popular underground city of Cappadocia)
Cappadocia ​Undiscovered Tour:
Depart from the hotel at 09:45
Mustafapasa (Sinasos) Visit
Keslik Monastery
Sobessos Excavation Area
Hike in Soganli Valley
Lunch in Soganli
Derinkuyu Underground City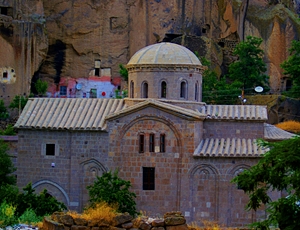 Explore and Hike Tour:
Depart from the hotel at 09:30
Goreme Panoramic Viewpoint (General information on Cappadocia at a vista point)
Ihlara Valley (6km hike among cave churches)
Lunch (Testi (Pottery) kebabs or trout in a river-by restaurant)
Selime Monastery (The largest cave cathedral of Cappadocia)
Pigeon Valley (A vista point before going back to hotel)
Daily Cappadocia tours are organized by Turkish Heritage Travel and you can find further information on their Cappadocia Tours page.
BALLOON FLIGHTS
STANDARD BALLOON TOURS (≈1 HOUR)


The Standard Balloon Tour offers a 45 minute to one-hour flight in the air. You will be collected from the hotel early in the morning, usually before sunrise, and driven to the take-off site. After a light breakfast, you will watch the inflation of the balloons, then it's time to climb into the basket and the highlight of your Turkey trip begins! After the flight lands, there is a small celebration with champagne and you will receive your flight certificate. You will be driven back to your hotel around 08:30 am, just in time for breakfast. Then you can choose to join a daily tour or take a nap. There will be a maximum of 20 people in the baskets. Please contact us for prices of Standard Balloon flights from various companies.
Butterfly Flight
We don't use the term standard for this flight as it offers way more than a standard flight in Cappadocia.
Duration is minimum one hour and then some… and our pilots do their utmost to make it one of the most memorable hours of your life. From your pick-up at the hotel through to drop-off, time equals approximately three hours; depending on your hotel's location and the time of year, you will usually be back before 9am and will comfortably be able to join a daily excursion.
Double T (TT) BasketNumbers of people in the basket ranges from 16 to 20 depending on the balloon size. Our baskets are Double-T, which means divided into 5 compartments. The central one is for the pilot and the tanks whilst the four corner compartments are for passengers, so even in our largest balloon there will not be more than 5 in a compartment. We respect our guests' personal space and believe in leg-room for greatest comfort.
Transfers with minibuses are included to the flight price. We will pick you up around half an hour before sunrise at your hotel and return you after the flight.
Insurance covers both the flight and ground handling and is included. Our passengers, pilots and third parties are covered by our policy for up to 40 Million Euro. We often receive requests from tour operators for the insurance details so have put our policy issued by Eureko BV click here to see.
Breakfast is served at our office before take-off. You can have filter coffee or tea with a selection of pastries and fruit.
Champagne Celebration is very serious in ballooning :)Champagne (chilled) is the most important detail of completing a balloon flight for pilots. So we serve the best champagne after each flight with a selection of cakes. Champagne is actually a ballooning tradition; since the Montgolfier brothers made the first flight in 1873 and celebrated a successful landing with champagne. During winter, we also serve mulled wine as the ambient temperature is usually below zero!
Certificates are given as commemorative gifts. Although your pilot might claim that you are licensed to fly with them, don't take it seriously! It's just the side effect of the champagne...
Children between 6 and 12 years old can fly with their parents and they pay the standart rate. Unfortunately we can not accept younger children as they can get a little bored and uncomfortable due to having to stand for an hour plus in the same place
Payment: You can pay the flight fee in cash at our office in many currencies including Euro, Turkish Lira and US Dollar.
Butterfly BEYOND Flight
We do not operate the Beyond Flight from 01st November to 31st March due to unsuitable weather conditions
So what's the difference between Butterfly Flight and Butterfly BEYOND Flight?
To begin with, the Beyond flight includes everything that a Butterfly Flights offers...
and more; you will be airborne for 1.5 to 2 hours. With the Beyond option there will be a maximum of 3 people in your compartment therefore, in total, not more than 12 passengers. This ensures that you have a freedom of space for viewing and photographing the breath-taking vista of Cappadocia. The Beyond flight will take off far from the other balloons and finish the flight way beyond.
Even though the flight path completely depends on the wind conditions of the day, Our pilot's experinces usually ensures that you see twice more than on any other balloon flight.
Invariably there are longer landing parties with Beyond flights with even more champagne. Also given on a Beyond flight; a Butterfly Balloon shaped, limited edition pin as a memory of your Beyond flight